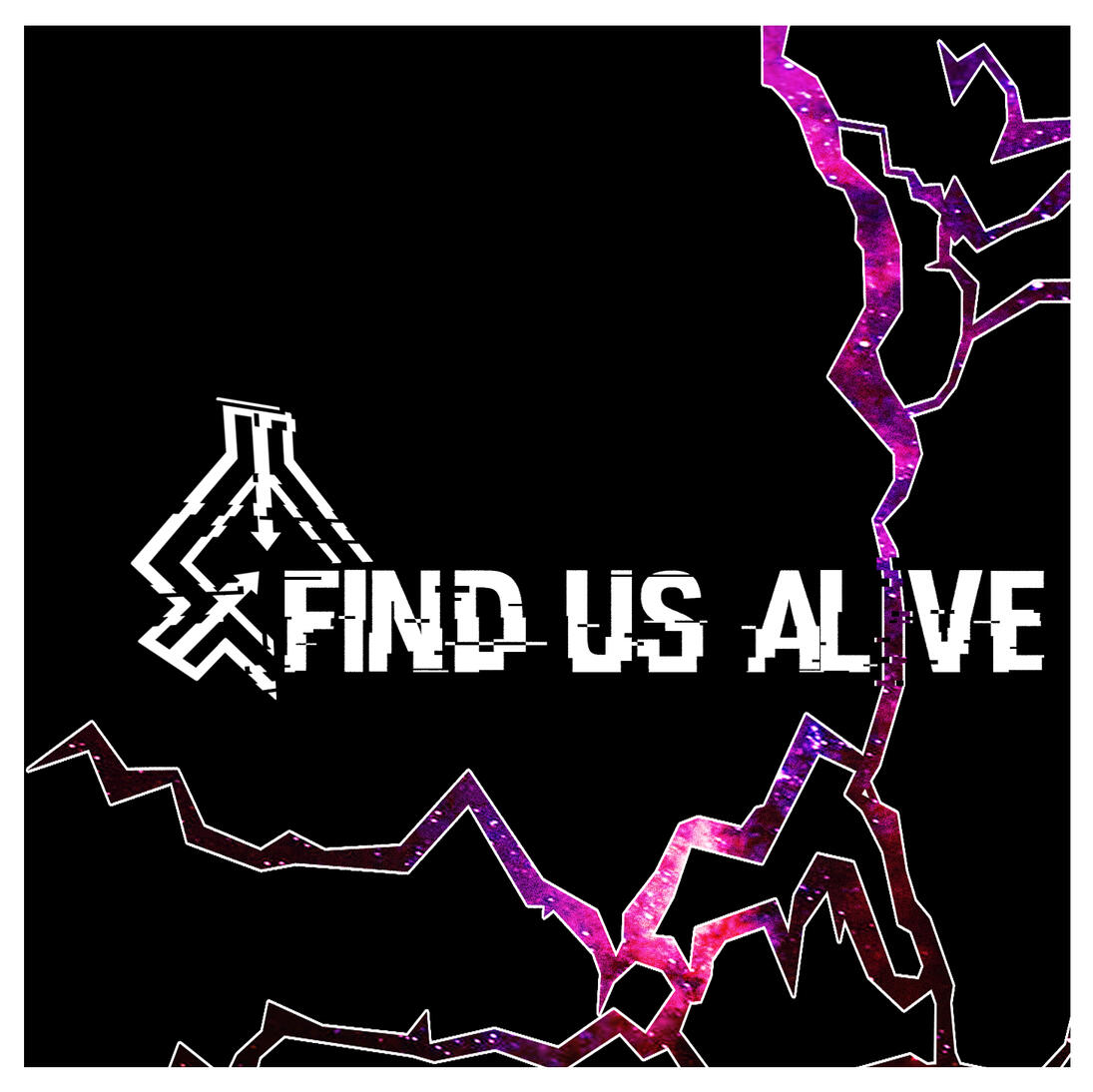 Incident 6320-AOn █/█/███, Foundation Site-107 underwent a massive dimensional shift, trapping all personnel inside dimensional anomaly SCP-6320. To date, attempts to contact outside help have proved unsuccessful.Escape efforts are ongoing.
---
Personnel
Dr. Harley
Dr. Lancaster
Agent Love
Dr. Klein
Officer Raddagher
Written, Directed, and Produced by Anna Maguire
Original Music by Jackson McMurray
---
FAN MERCH POLICY
YOU CAN SELL ART!
We consider fan merch to be a great way to share the show with new listeners!
But in compliance with our CC 3.0 license (more info below),
there are some rules to selling art and merch.Any art you sell MUST be original or sold
with explicit, specific permission from the original artist.Any other merch (keychains, buttons, plushies, etc) must be original as well.
You cannot buy items from other people and resell them without permission.You cannot resell items from the official merch store.While it is not required, if you are selling items online,
we would greatly appreciate a link to this website,
our YouTube channel, or our podcast feed!Find Us Alive, being associated with the SCP Foundation Wiki,
is licensed under a Creative Commons 3.0 License.
If you have any questions about what that means for your fan project,
check out the official SCP Wiki licensing guide for a complete explanation.
Special Thanks to Our Supporters!
It's listeners like you who make our show possible. With the help of our amazing patrons, we're able to keep making great art for listeners all around the world. Your donations go toward paying our actors, covering our eqiupment fees, budgeting for new shows, and keeping a roof over Anna's head while she keeps the operation running! We can't thank you enough for making this dream possible.
Kade Le
Laurence
Lief
Frankie Sturtevant
A.C.
Vulpix Alolan
Justin Tillman
Jen Finch
Panda
Michael Haueisen II
Hannah Tarbox
Kilrohg
True Resolution
Danielsworlds
Saryuko
Assembled Philosophies
Joseph Weldon Shaw III
Maxigose
Nicky
Euclid
Dizzy
Churlington Beesecoat
Robert Stewart
The Bosun
Lee
Emotive Remembrancer
master assassin
mylonMia
Leela Cofell
Sonder
Dr. Void
Garrett DeGraw
FXKTN
The Last Thursday
Voided Orion
Raven Wave
Bookworm25790853
Ariel Young
CryZe
Aaron Hoffman
Samuel Powell
Angel Mendoza
Kyodai
Astlyr
Jami Star
UnkindWinner-7
Alycia Cissell
MoritzZombie
Alex
Hailey Kai-yote
Moth
John Carter
Redacted Information
Kracken
Devin Harris
Jaycrow
Chidozie Nwobilor
Zenzi
Chickenman
Avellar300
AlexMortensen
Rylee Father of Skrung
Bubble Grief Gal
Hannah
Zombii
carmen kay
get out of my garden anna
Lavender
Steve Accounting
Glossy
Nathan Kouvalis
EterniGhost
Russell
Grimmons is canon
MushyMushroom
Lazy rando
Naomhan 2
SadBreckin
ezz
SpacedMoon
DarkCore
kasey
Scion
Bluejay
Araniladin
Schizo727
ErickKing
Gaggles
Shadow
Thalia Shaughnessy
Quau Brohan
Tondy
Etchy
Kira
Quartz563
Smxkey Eyes
Shadow of 1471
Wyatt Lott
Rasmus Tindborg
Steve
Samuraix1818
Amara Ahmed
Rainy
MyNameJers
Ben Verschell
Jackie Wavelet
DS
Jan Boland
Samoht
Kenneth Keller
Kevin Garcia
timothy walker
marlboros n shine
minty memory
elle
That 0ne art n3rd
BeepSterr
Jewish Dude
Yes
Timinin
errorblur
RossBossARTS
Michael Lazaropoulos
Allan Kelley
greeniebeany
Ratch3t_H3ro
Leander
Aerowarrier
Jillian Reed
Zal Cryptid
KB
ToxicFate048
Dominik Hinz
SherlockBonelessBones
Kael Reddick
Alex Glass
Garrett M
mister crude
Corran Gautier
Jessica Longaker
Gavin Knutson
Chase Bray
Hayden Hodges
Brandie Johnson
Alex
A Birb
K
Kinetic Hornet
Ftfreddyfz
Tadus
Nahdeen
Josephocles the Curry Pirate
Vanessa
Charlie Neal
Friday B
Pickles
Seramoth
R0gU3
Damien kocsis
RAGDOLL
HellzHobo
Ravenheart
Sleepylea
SolomonLikesDrKlein
Jesse
Yoshinon
Felix Kosek
A
fang starlight
Jacob Dunnavant
PeLegeleu
N0xSkyfall
GMO Geek
Giantkin
Delano Aidan
Reivax
The Scarlet King
Benisvoy
Max Appleton
Pidge Belzer
Reckless Dwarf
Mary Jeschke
Jake Schulze
Monica Pierson
etoile
Vulpix
Nathaniel Corry
BigBlackNick
Troy Fillyaw
Seamus Vandenbrink
Tia
Styx the Heretek
Juliet
Bijan Sandari
Andres Rosales
Shane Ekstrand
blueyu2
FoxBlade
Nils Gerlach
oger3333
steffen sparks
Shy
Violet
Mitchell Vivian
lorelei
Sloth
Heebish
Maria Barnard
beatrice hyde
Ray Lane
OnyxRose
Meriphia
Nathan P
LittleRagondin
Liv
Thom Clancy
Stygal Vetis
MaddJakk
CuKnite32
SoccTime
Anomalous fox
MontageQueen
Shelby Anne
Dalton White
Agent Maxwell
EmotionalEntropy
George
KingHurrDurr
Emily Reilly
Liv
Wispcast Unyieldi
RobotBeep
majel tondi
Officer Uber
Colter Lemons
Kahalariel
Zzozzez
LivinLuxurious
kinesis
Tannondraal
Silver 0ver Gold
Sam R
Brick
Em, Mother of Skrung
Bryce W Heiman
Irene Vizcarra
John
Patrick Fifield
mileaftermile
Grim Demortoa
Meri 'The Little
Amelie Gilmour
kale!!
tinkerBell
Steven Hernacki
Queen Cam
Cal'arten the tired
Dr. Katherine Albrecht
Lazer
Ariella Newman
Atlas Bear
crowtech
Wonder
Alexander Aeppli
Ean Anderson
Maya Lovelady
Isaiah fox
Bottle
The body code The Body Code is a cipher system used by the personnel of 107 to record confidential information in a way that carries between cycles. Although the fictional crew of Site-107 tattoo this cipher directly on their skin, it's still fun to use on regular paper, no needles required!
The Alphabet
The Body Code uses a shortened phonetic alphabet, combining and dropping phonemes to reduce the overall number of letters.English Alphabet
A B C D E F G H I J K L M N O P Q R S T U V W X Y ZBody Code Alphabet
D E G H J K L M N O P R S T U V YWords are spelled phonetically using as few letters as possible. The spelling of any given word can change from person to person, with the variations between spellings acting as another layer of security to the code. Needing to read the words out loud functions as a sort of puzzle that help make it more difficult for classified notes to be read at a glance. It's a code, not a language, so no word or name has a fixed or "correct" spelling. Make things up!Example Spellings
SECURE = SEKUR, SEKR
CONTAIN = KONTYN, KNTEYN, KONTEN
PROTECT = PRTEKT, PRTKT, PROTKTA few other examples of combined letters and soundsE = E, A
D = B, D
V = V, W, F
K = K, C, Q
S = S, C, Z
Y = Y, I
The Cipher
Once words are translated to the modified alphabet, they can be applied to this cipher grid. Words are constructed using one base diamond shape, with consonants represented by smaller diamonds, and vowels represented by dots.There are four consonant diamond shapes. Cut out of the base Floating inside the base Attached to the base Overlapping the base
Consonant diamonds may have a horizontal or vertical line through them to indicate which letter they are, as shown on the grid.Vowel dots have unique rules as well. E is attached to an edge line. O floats outside a consonant (or if beginning a word, outside the base). U floats inside a consonant (or inside the base if beginning a word).
Y sits on a line and attaches a tail to an edge of the base, but not a corner.
Sometimes vowels look very similar or even the same. Context is important for figuring out which letter is which.The letters are placed clockwise, as shown.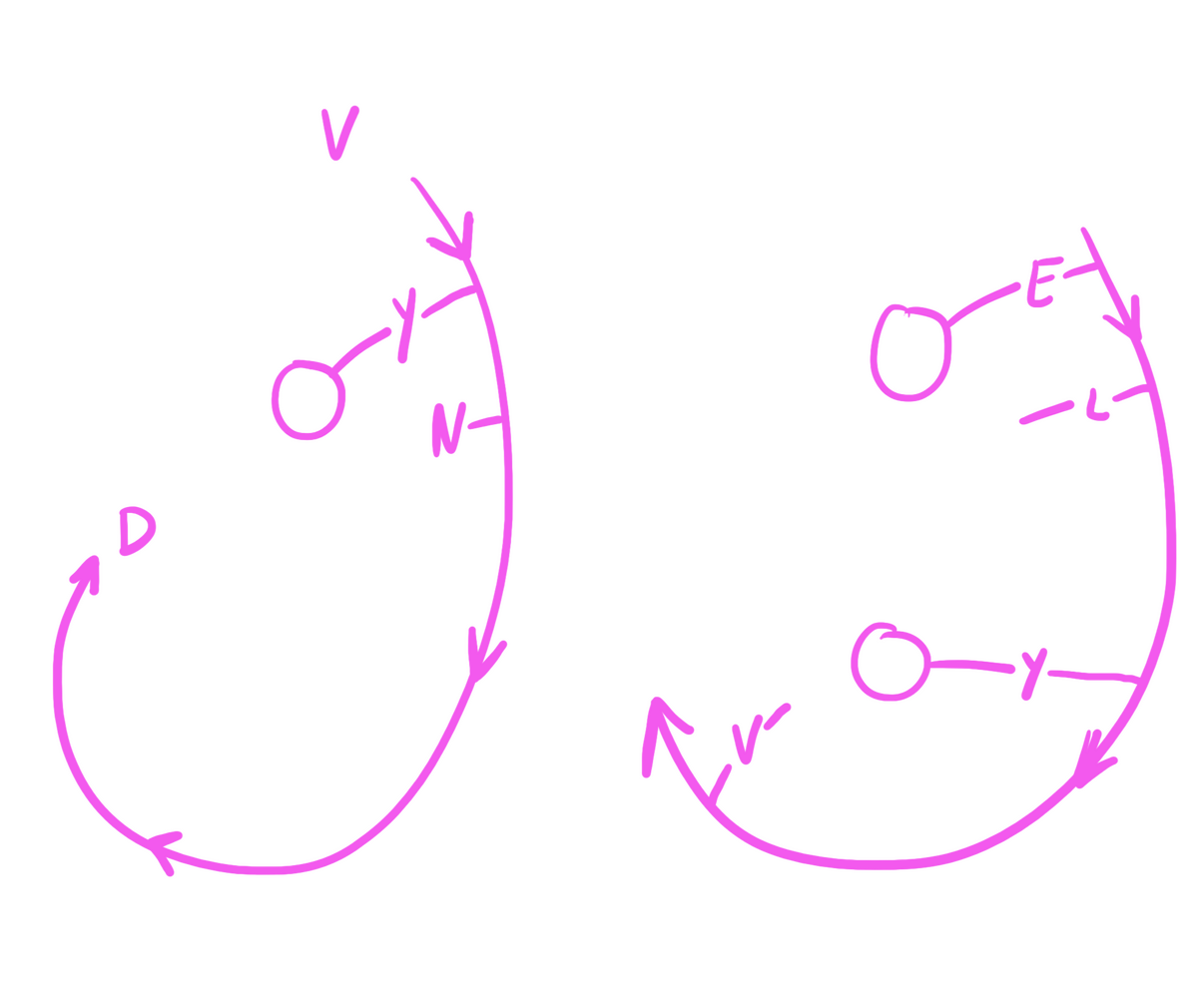 Phrases are created by lining the bases up along their edges, reading left to right.
locational context
Location meanings change based on individual, department, or other grouping. Common standardized locations in Site-107 include:Inner left wrist – Indicates which department or group key they're using for their location meanings.Back of neck – Foundation ID, in case your body is not easily identifiableBack – Used by department heads or group leaders as their master key to their group's location system.Left ring finger – Marital status. Mostly for sentiment.Directional arrows may also be applied to add additional meaning. The direction is based on the body standing upright, arms at sides, meaning Up would point toward the head when at rest, and Down would point toward the feet. Adding more arrows may increase the severity of this meaning. The arrows have the following contexts:Up - Good, Safe Class, a favorable outcome, a positive indicator.Down - Bad, Keter Class, unfavorable outcome, a negative indicator.Sides - Caution, Euclid Class, an indicator of special note or importance, keep watch.Here are some examples of this system in practice. The phrase "casualty 9/6/19," with two downward arrows, located on the left calf (an area designated for recording details about breaches).Phrase Meaning: "A breach on 9/6/19 suffered heavy casualties." The name "Dr. Black," side arrow, located on the right upper arm (an area designated to record new medication requirements).Meaning: "Dr. Black has new medication requirements, but they aren't severe." The name "Dr. Black," one arrow, located on the right upper arm (an area designated to record new medication requirements).Meaning: Dr. Black has severe medication requirements.
numbers
Numbers use the same grid and base diamond system as words. The key difference is that numbers are indicated by a caret over the base diamond. Lines between digits are used to indicate divisions.
Let's try it!
"FIND US ALIVE 9-6-19"Step 1 – Adjust Spelling
FIND US ALIVE --> VYND US ELYVStep 2 – Create Characters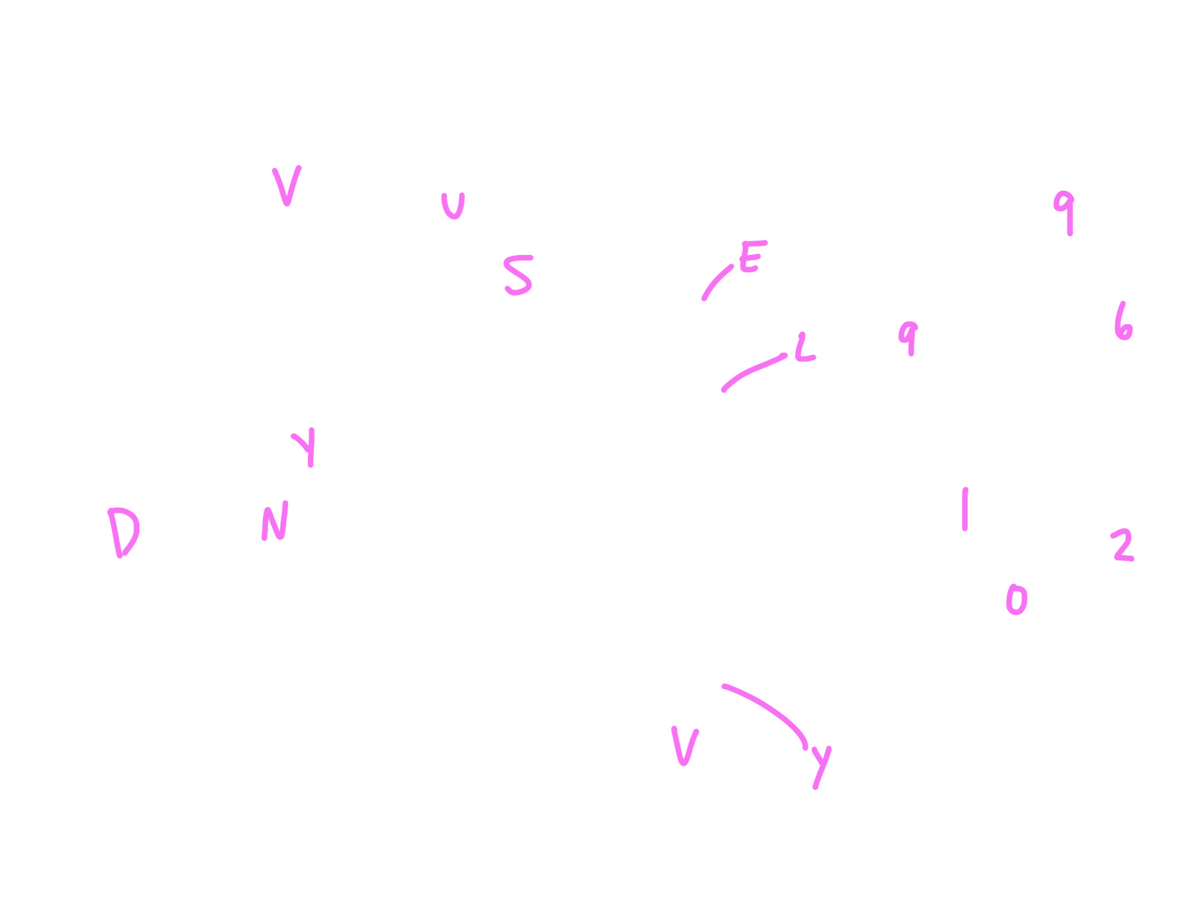 Step 3 (Optional) – Assign a Location and an Orientation
Location - Upper right arm (recording important dates)
Orientation – UpMeaning: Successful launch!
FAQ
How do you spell…
However you want! As long as it contains the letters on the grid, you can use them however you like.Where do I put…
Wherever you want! The directional meanings are chosen by individuals or groups of people, so you are welcome to be your own department head and put one wherever you'd like!Am I doing this right?
As long as it makes sense to you, yes! This is only for fun, you can bend the rules if you would like.There are shorter alphabets that use English characters, why did you pick these letters?
I am not a cryptographer or a linguist, and being completely honest, a lot of this code was designed to be cool looking and fun to use, rather than strictly functional. These letters fit into a nice grid! It's loosely based on the Pigpen cipher that I loved writing in as a kid.Is this canon?
Parts of it are! As we've said before, it's only canon if it's in the text of the show. There are a few times when characters mention diamonds and dots and lines, but if you imagine it looking and functioning differently, your interpretation is valid.Can I get a tattoo of the Body Code?
Sure! We would love to see it if you do!How do you do stick-and-poke tattoos?
Although the characters in Find Us Alive use some method of stick-and-poke tattooing to apply the Body Code, we don't recommend doing that in real life. Stick-and-poke tattoos can be very dangerous if done incorrectly. The best way to get a tattoo is to let a professional handle it. It'll look better that way, too!
Our Shows
Independently produced and always free to listen!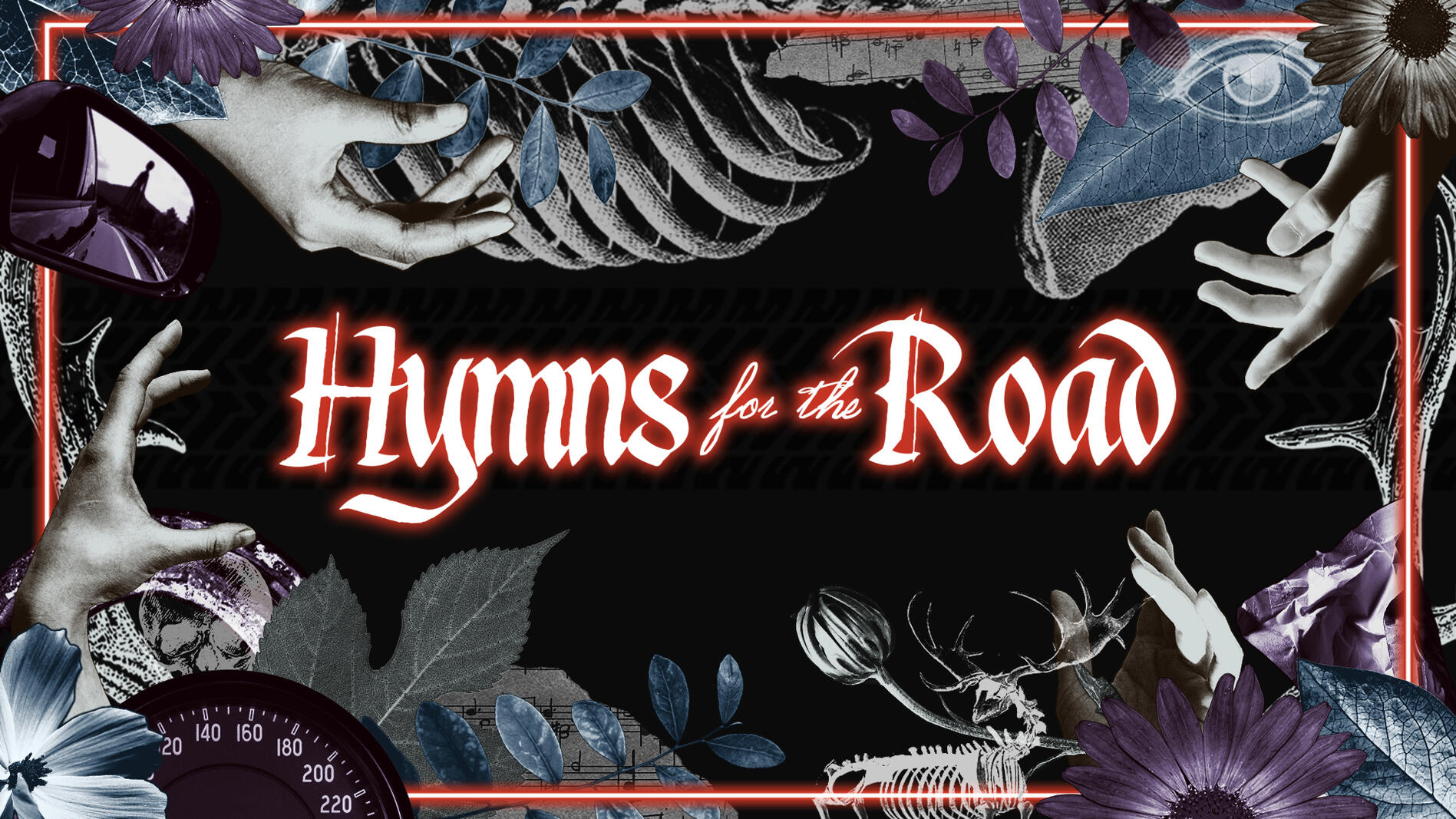 Coming Fall 2024
Four survivors of a magical apocalypse embark on a road trip through the fantasy wasteland that once was America. Filled with mischievous and often malicious otherworldly creatures, strange and esoteric survival rules, and impossible, dreamlike landscapes, the world has become both indescribably beautiful, and ruthlessly, indiscriminately deadly.A melancholy, atmospheric tragedy about life, loss, and change, Hymns for the Road is the next original audio fiction title from the award-nominated team who brought you SCP: Find Us Alive.
---
Featuring
Justice Washington - Autumn Toler - Emily Foulger - Ray O'Hare - Anna Maguire - Tom Schalk - Tarek Esaw - Vincent Holmes - Mei Xin Bierzynski - Tasch Ritter - Gianni Matragrano
---
Thank You
Thanks to the help of an incredible community of audio fiction fans, Hymns for the Road exceeded its $12,000 funding goal on Kickstarter in September, 2022.We could not have done this without you.For information and updates about the campaign, visit the Hymns for the Road Kickstarter page here.
---
Arch Folk
$100 Tier
Zebe Loun
Stephanie Smith
Dannstacks
Harrison Klekar
Kyle Cornett
Adrian
Jorge Huayanca
Churlington Beesecoat III, Esq.
Rich Cracroft
PabstiteCritter
Ethan Childers
Zachary "Hazmat Unit"
UraniumEmpire
Nifemi Adeogba
Teebs McGoo
Weird but Okay
Thalia Shaughnessy
Marwa
TheLastThursday
PunkN
EmotionalEntropy
Frederick Chu
Dustyn
Kadence Le
Dr. Theron Sherman
William Shaw
Dalton
Una McG.
Kay
Heath Crouch
David
Robert Rogers
Maxigose
Patrick Borland
Victoria
hrhgegea
Quentin Brown
Jack Henman
Amelia Brownstein
Trinket
Giovanni Solano
Jamie
Nathaniel Corry
Seraph'sWing
SoccTime
Sydney Purcell
ShakeFreighter
Dana VanAntwerp
Francisco
Gianni Matragrano
---
Good Neighbor
$50 Tier
Kiri J McClure
Jude
Dalton white
Holly
tipsycowboy
Ty
Emily Brower
Snow
Arlo
Sarah Clancy
Quinn Lehmer
Antonio Miller
Courtney Evans
Alexandra
Alycia Cissell
Jacky Wavelet
Jonathan Bubalo
Léo Guezellou
theboobird
Dee L Fujii
greeniebeany
Closingstraw97
carins
Cynthia
---
That Is Not A Deer
$25 Tier
Mars
Tabitha Willis
David Elm
Angie Orellana
Jordan Van Daalen
Realsurrealsir
Liz Leckie
weiserthanyou
Levi Henrie
Theo G
Alan Vorderbrug
Connor M. Nolan
Rasmus Dahl Tindborg
Jamie
Prizmiz
Damian Clayton
Katherine Burke
Cthulhu_jesus
ReidMeind
Adam Best
Dunakavics
Nicky/Skye
Dylan Baldanza
Fritz
Asher
LittleRagondin
Kassandra Johnson
Mel Davis
Benjamin Stevens
Emory McComiskey
Charlie Vick
Spervarii
backwoodscrypt
Lee
June
Kasha
Redposting
Eric Stover
Isaac Jarvis
Rebecca Matson
Kaz
Rowan M.
Keats T.
Christian JA Gray
Eldritchraven
Scarlett Archer
Jami
Amber Nelson
Rattlecat
Ryan willmon
Alex Brewer
Paige henderson
Julian Ferretti
Emma Zimmerman
Miranda
Harold Karrar Jr.
Ben Verschell
Alice Thouard
CuPriferous
Leander Ligo
Jacob Burton
Rhea
Matthew
---
Faceless Rabble
$10 Tier
SkullSpartan16
rune_song
The letter M
Robojake
Mr. Smiles
Christine
Dorkly5
Jonathan Bonomo
notoneiota
JimJam JellyJar
SolarLizard
BardBarianBoi
Asher Sherfinski
Islay
jim coder
Red Southers
August Poe
Rowan
John Carter
Michael
Ross
Andrew
PurpleStrings
Anthea West
Max Hartley
Anitae
InconsistentPerson
Mo
PurpleGloves
Kamryn Perkins
RaptorScream
RustySquid
Reno DiFonzo
Willow
Zoe (ZombieBug) Huggler
VioletJester23
Samuel Hair
Corbin Green
Hannah Butkowsky
Lucy L King
Ashes
phoebe phoenix
CaraLee Rose
Sean Logan
Sophie Lemay
Simon Pacentrilli
Nikki Lyka
Stephanie Smith
Kaelynn Mathews
ShaunSaxum
Kore
Gabriel Acosta
Kinesis
JstHangin
Oasis Kerr
grigori karpin
Agentduckduckgoose
Julia Bondi
Jesse Hall
Ripley
Donoavnclone 7
Ash Howell
Mitchell Pyron
Dylan Reed
caleb
Isaac
Jacob
Courtney Mayer Pritchard
David Lovell
TotallyaLoser4
steffen
Karl
---
Just a Coffee
$5 Tier
Cameron Perkins
Carlee Nesse
Nicholaus Chatelain
Amanda Mundy
Levi Phipps
Nic Barker
wes funnywes
Shalem Simon
Phoenix
SpudTheRubbish
Oliver Pöckelhofer
William
Eli Sinden
Edward Bonnett
Mr Sneakman
Fiona-Jane Brown
Bilith Walker
Aurora
HoleyRomanEmpire
Kaitlin C.
RespectableFish
Anja Eussen
Regrozenah
God
Fareed
Michele Pzena
Perennial Astronaut
Duke 'Till Dawn Audio Tale
an audiofiction adaptation
of the SCP Wiki Tale by DrKondraki
---
Listening Guide
WARNINGThis audio production contains a number of references to specific and unexplained SCP articles.In order to be fully briefed on the events of this episode, all personnel are advised to visit www.scpwiki.com and read the following pages included.All anomalies are presented in order of appearance.
---
9:18
SCP-388: Ultimate Frisbee11:25
SCP-162: Ball of Sharp16:45
SCP-143: Bladewood Grove20:37
SCP-682: Hard-to-Destroy Reptile28:40
SCP-298: The Blood Organ
Credits
Duke 'Till Dawn by SCP Wiki User DrKondraki
Adapted and Directed by Anna Maguire
SOUNDTRACK
Jackson McMurraySOUND DESIGN
Anna Maguire
Taschia RitterCOVER ART
Taschia Ritter
Cast In Order Of Appearance
Narrator
O5-2, MTF Agent 1, Worker 1
Dr. Kondraki
SCP-083
Agent Infred, MTF Agent 6, Dr. B
Dr. A, Dr. Rights
Interviewer
Dr. Bright, Prof. Kain Pathos Crow
Dr. Clef, Worker 2
MTF Agent 2
MTF Agent 5, Iceberg
MTF Agent 3, Dr. C
Researcher
Dr. Gears
SCP-682
Gianni Matragrano
Taschia Ritter
Justice Washington
Ryan Short
Anna Maguire
.
Tabi Bardall
Madison Warnock
Vi Huntsman
.
Logan Laidlaw
Arlo Ritter
TheeSherm
Jackson McMurray
Joe Walker
SCPIllustrated
Dan "Coda" Goldberg
Due to migrating our website, we're re-uploading our transcripts gradually as our new service limits daily uploads. All transcripts will be available in about three weeks. Thank you for your patience!